DMS Studios Fireplace Mantel Designs
Natural stone fireplace surround - page 2
"Custom Work Our Specialty"contact us for a consultation
DMS Studios is pleased to design and fabricate a wide range of fireplace mantels, from the most simple and austere fireplace mantel designs to an elaborate and grand fireplace mantel surround. The following examples of custom stone fireplace mantels are all custom designed to the specifications each client. Contact us to discuss your project needs and design questions.
This magnificent custom Chiampo Fireplace Mantel was designed to enhance a large paneled ballroom. It is made from the beautiful "Chiampi Marble" specially imported from Italy.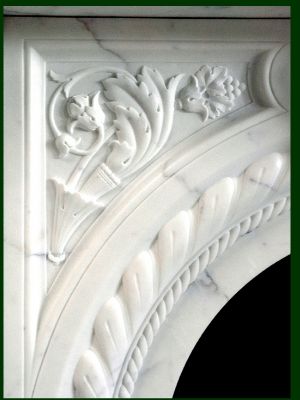 We consider this wonderful mantel to be among our most unique and challenging projects. It is a perfect recreation of an 1840's Victorian style marble fireplace mantel. Fireplace mantels such as these were popular in England and America during the Victorian era and were considered the height of luxury.
This Arts and Crafts fireplace mantel was designed for a customer who wanted to maintain the stylistic consistency of their very early 20th century home.
This beautiful and unique Calacatta Marble Fireplace Mantel was carved using a very challenging material. When a mantel is carved in this marble it becomes a very invaluable treasure.