DMS Studios Fireplace Mantel Designs
Natural stone fireplace surround
"Custom Work Our Specialty"contact us for a consultation
DMS Studios fireplace mantels are completely hand carved from solid blocks of the finest natural stone. We hand carve fireplace mantels from a variety of limestones and marbles available. Each custom design fireplace mantel is made to the highest standards of craftsmanship and artistic quality. As you browse through our portoflio of fireplace surrounds, please click on a mantel's image to view each individual fireplace.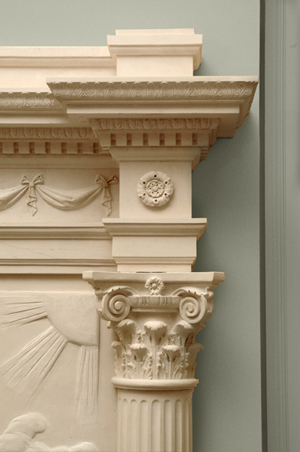 We consider the Phaeton Fireplace Mantel to be our finest fireplace surround to date. It was carved from perfect blocks of ultra-fine, pure white, natural limestone especially imported from Europe for this project.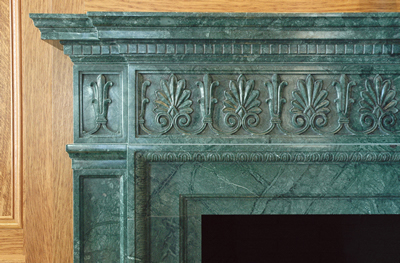 The Italian Verde Fireplace Mantel is carved in a green antique Italian marble. It's an extremely hard and durable marble with a rich color. The color and natural vien in this stone is an ideal compliment to a beautiful oak paneled room.
"Jewel-like" would be the best description of this mantel. The Daisy Chain Fireplace Mantel was carved from select Italian white statuary marble from the famous Carrara region in Italy, home to the finest marbles in the world.
This Extremely Large Fireplace Mantel is the largest fireplace designed by DMS Studio. This mantel measures 12' wide by 15' high and 5' deep. It is made from "Jeruselem Limestone" especially imported from the Middle East.